Options, options, options! With so many options in the streaming entertainment space nowadays, one might wonder if the "just Netflix and Chill" days are finally over?
Click logo to view Netflix Inc. (NFLX) Shares.
on EasyEquities

Fundamentals
The company will release its fourth-quarter results after the U.S market closes today and some of the core earnings drivers like the number of subscribers, the average price per subscription and the investment into content will be watched for guidance.
Netflix's subscriber numbers tend to be most important for investors but also manage to beat and miss expectations. The impact of Disney +, which many believe to be the only potential disruptor to Netflix's domination. So, expect subscriber numbers to be scrutinized.

The average price per subscription is also a key driver of earnings. Customers are sensitive to movements in subscription prices. Although analysts are fixated on the number of subscribers, the ability to increase rates is also essential to Netflix growing earnings.

Netflix is venturing tentatively into India and China, but management won't divulge their tactics. The company also plans to enter the French market with 20 new French productions and local creative partnerships. Nonetheless, even with a limited offering, a lot more cash will need to be spent to build up a library of reputable content to attract customers.
Netflix Inc. (NFLX) share overview:
Sector: Communication Services

Market Cap of $148.86 Billion

Dividend Yield: 0%

P/E: 108.8

Shares outstanding: 438 million

52 Week Range low of $252.28 and $385.99 per share high.
Netflix has a PEG ratio of 3.62 compared to the Broadcast Radio and Television industry's PEG ratio of 0.79 and is considered as over valued.
Earnings outlook
Netflix is expected by analysts to report $0.52 in earnings per share (EPS) for the fourth quarter, up from $0.30 in the same quarter last year. Revenue is estimated at $5.5 billion, versus $4.2 billion from a year earlier. Net new subscribers are expected to come in at 618,000 (U.S domestic) and 7.2 million (international).
Click logo to view Netflix Inc. (NFLX) Shares.
on EasyEquities

Chart Life
The price action on Netflix has nearly filled a triangle formation ahead of its earnings today, with a possible divergence between price and the Relative Strength Index (RSI). We need to see a daily close above the $347.82 resistance, supported by better than expected earnings to target higher levels. If earnings disappoint, we might see a sell-off back to the $315.70 support area.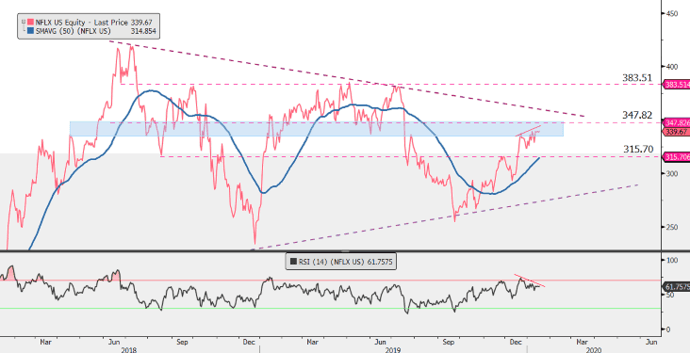 Source - Bloomberg

Seasonality might also be a tell-tale sign of when one can expect cyclical factors to influence the share price of Netflix, giving a holistic view of what happens to the stock on an annual seasonal basis. We might expect fourth-quarter results to beat expectations as this period has been a favorable quarter in the cycle for Netflix historically. Cycles do shift over time but are worth noting as part of the holistic picture of Netflix.
Portfolio particulars
Portfolio Neutral (Current)*

Portfolio Buy opportunity: Neutral**

WhatsTheBeef

long term target price: Neutral.
Informed decisions
For investors who are not invested in this FAANG favorite might find it better suited to instead wait and see how investors react to the earnings release. Competition in this sector is increasing, and Netflix will face significant competition from competitors in two areas, namely price and content. Some of these factors have already seen U.S subscriber numbers dwindling from previous years. Most of Netflix's growth going forward is most likely to come from international consumers as most do not have access to the competitors and Netflix is the only option available.
Sources - Netflix, Bloomberg, Barron's, Zacks, KOYFIN, Investing.com, EasyResearch
*Portfolio Hold (Current) refers to investors who already hold the stock within their portfolio.
**Portfolio Buy opportunity refers to Technical level crossed which might imply that the markets behavior would support the outlook and Close above refers to a share price close above a Technical Resistance level.
Follow Barry Dumas
@BEEF_FINMARKETS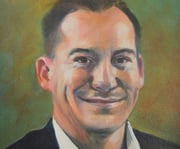 Barry is a market analyst with GT247.com, with a wealth of experience in the investment markets. Now in his tenth year in the markets, Barry "The Beef" Dumas brings a combination of technical analysis and fundamental insights to the table.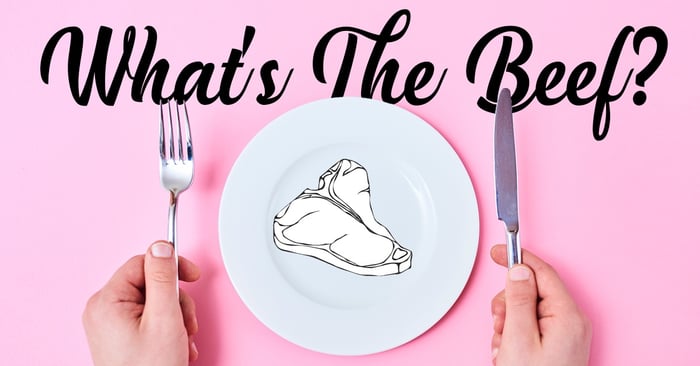 Any opinions, news, research, reports, analyses, prices, or other information contained within this research is provided by Barry Dumas, Market Analyst at GT247 (Pty) Ltd t/a GT247.com ("GT247.com") as general market commentary, and does not constitute investment advice for the purposes of the Financial Advisory and Intermediary Services Act, 2002. First World Trader (Pty) Ltd t/a EasyEquities ("EasyEquities") and GT247.com do not warrant the correctness, accuracy, timeliness, reliability or completeness of any information received from third party data providers. You must rely solely upon your own judgment in all aspects of your investment and/or trading decisions and all investments and/or trades are made at your own risk. EasyEquities and GT247.com (including any of their employees) will not accept any liability for any direct or indirect loss or damage, including without limitation, any loss of profit, which may arise directly or indirectly from use of or reliance on the market commentary. The content contained within is subject to change at any time without notice.
The value of a financial product can go down, as well as up, due to changes in the value of the underlying investments. An investor may not recoup the full amount invested. Past performance is not necessarily an indication of future performance. These products are not guaranteed. Examples and/or graphs are for illustrative purposes only.