E-commerce stocks
Through great hardships comes excellent opportunity, especially so for companies who geared and upgraded their businesses towards the future. E-commerce is on fire and worth its weight in retail gold for businesses upending traditional brick-and-mortar stores.
Global online retail sales are skyrocketing and estimated to reach enormous figures around $6.5 trillion by 2023, up from $3.5 trillion in 2019. This is not even considering how the COVID-19 pandemic has accelerated retail sales towards online channels.
Click logo to view shares.
on EasyEquities
Let's take a closer look at some of the popular e-commerce stocks:
No e-commerce list will be complete without listing the one and only Amazon.com, which has been disrupting well-established industries on a mass scale. Amazon hasn't allowed the COVID-19 pandemic to put a damper on its mood, but instead put things in first gear with a wave of possible new acquisitions and ventures.
It is reported that the e-commerce giant is in advanced talks with a self-driving technology start-up called Zoox Inc and venturing into the podcast arena with sport content high on the list.
Like most industries, we have seen stocks sell-off during March as the coronavirus pandemic hit the global economy, but this sector and the Amazon stock price has surged. The Amazon.com share price is higher by over 44% from its March low and up over 30% YTD.
This superstar of e-commerce has come a long way since the days of selling snowboarding equipment online today, where it helps people establish and grow online businesses. Shopify has seen some of the largest corporations like PepsiCo and Nestle knock on its door to help power their online operations.
These businesses have generated billions in online sales on Shopify's platform and are expected to go strong for years to come. COVID-19 has undoubtedly been a testing time for businesses, and with some of these traditional retail stores forced to close their doors, Shopify might see an increase in demand for its services.
The company's share price has increased over 138% since its mid-March low due to the global sell-off and is up over 93% YTD.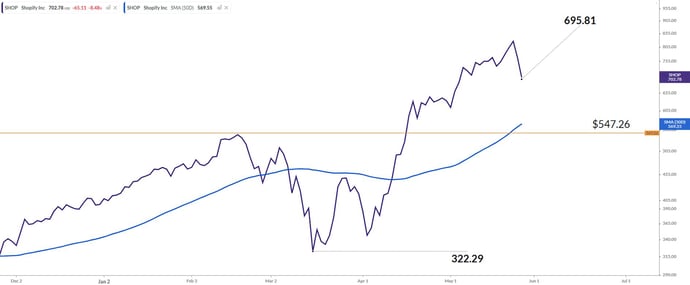 Alibaba Group Holding Ltd (BABA)
Alibaba has become one of the e-commerce legends over the years and now boasts with a market share greater than 50% in China. The company's latest earnings for the fourth-quarter fiscal 2020 (ended the 31st of March 2020) showed an increase in the bottom line of 7% Year over Year. This e-commerce Goliath sees slower growth this year mainly due to the COVID-19 uncertainties. In the short term, we might see sales growth due to it serving a 1.4 billion Chinese population stuck under lock down.
Renewed tensions between the U.S and China has seen some concerns return to the company, especially after a U.S senate bill passed to delist Chinese companies that do not comply. Macroeconomic headwinds in china and rising competition in the e-commerce space pose as some of the risks to look out for moving forward.
Alibaba shares have lagged Amazon by some margin but still managed to claw back 14% gains from its bottom in March 2020.
Informed decisions.
The e-commerce sector has seen substantial gains while the coronavirus pandemic took hold of our way of life which are forever changed. While Amazon, Shopify and eBay remain high in the pecking order, Alibaba should be watched for a solid rebound.
Click logo to view shares.
on EasyEquities
Source – EasyResearch, Amazon.com Inc, Shopify Inc, Alibaba Group Holding Ltd, Benzinga, The Motley Fool, SeekingAlpha, Statista, Koyfin, Yahoo finance, Wikipedia.
Take note that all stock data was taken on the 27th of May 2020 during the U.S stock market open..
READ:
How to use EasyFX to invest in US stocks
Follow Barry Dumas
@BEEF_FINMARKETS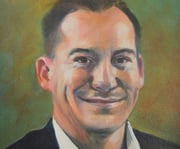 Barry is a market analyst with GT247, with a wealth of experience in the investment markets. Now in his tenth year in the markets, Barry "The Beef" Dumas brings a combination of technical analysis and fundamental insights to the table.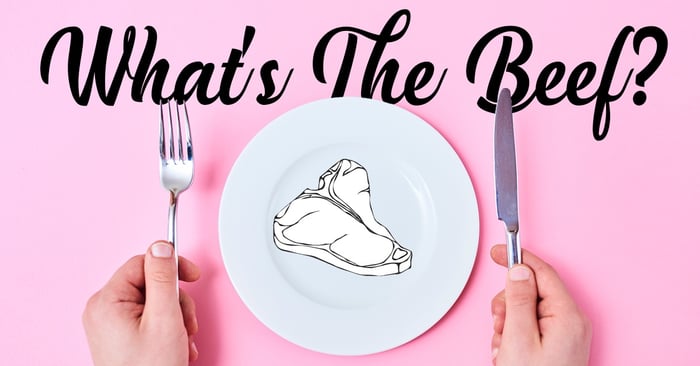 Any opinions, news, research, reports, analyses, prices, or other information contained within this research is provided by Barry Dumas, Market Analyst at GT247 (Pty) Ltd t/a GT247.com ("GT247.com") as general market commentary, and does not constitute investment advice for the purposes of the Financial Advisory and Intermediary Services Act, 2002. First World Trader (Pty) Ltd t/a EasyEquities ("EasyEquities") and GT247.com do not warrant the correctness, accuracy, timeliness, reliability or completeness of any information received from third party data providers. You must rely solely upon your own judgment in all aspects of your investment and/or trading decisions and all investments and/or trades are made at your own risk. EasyEquities and GT247.com (including any of their employees) will not accept any liability for any direct or indirect loss or damage, including without limitation, any loss of profit, which may arise directly or indirectly from use of or reliance on the market commentary. The content contained within is subject to change at any time without notice.The value of a financial product can go down, as well as up, due to changes in the value of the underlying investments. An investor may not recoup the full amount invested. Past performance is not necessarily an indication of future performance. These products are not guaranteed. Examples and/or graphs are for illustrative purposes only.