With missiles flying back and forth, 2020 has kicked off with a "Bang" while some say World War 3 is upon us? Fact or Fiction the markets are reacting to the recent turmoil between the United States and Iran.
In uncertain times, whether it be a pending nuclear World War or an economic downgrade by rating agencies like Moody's, there are ways to curb your losses to an extent.

Take note: In the case of a nuclear war, you will have more significant problems than just your portfolio, but luckily it seems the geopolitical tensions between the U.S and Iran have subsided for now.


I have discussed Rand Hedges in previous notes, so let's take a closer look at safe havens and what you could add to your portfolio as protection against market turmoil.
What are Safe Havens?
You might have heard the investment term "safe haven" before and might hear it again this year, but a safe haven is an investment that is expected (not guaranteed) to increase in value during times of market turbulence like we see now. So, in laymen's terms, while most assets are decreasing in value safe havens retain or increase in value throughout uncertainty.
Safe havens are usually but not limited to hard assets like commodities, and an excellent example of a hard asset as a safe haven is Gold. Other types of "safe Havens" are debt instruments like Bonds and Cash is also considered by many as the only safe haven; hence the phrase "Cash is King". Cash, on the other hand, has inflation also to consider when selected.
Investors will look to diversify their portfolios against systemic market risks and buy safe haven assets that are negatively correlated to the general market.
Here are a couple of instruments to take note of when looking to diversify your portfolio with some safe haven securities.
Gold
When looking at the stock market, we want to look for stocks that are positively correlated to the commodity we have chosen as a safe haven. In the case of Gold, we would look to Gold stocks and their reaction to the increase in the Gold price.
By looking at the chart of Gold below, we can see the sudden rise in the Gold price over the festive period as the geopolitical tensions started to take place and investors were moving out of equities and into commodities.
Looking at seasonal trends, we might expect the price of the commodity to start losing momentum. Still, the sudden move lower is due to the U.S and Iran tensions subsiding and investors moving back into the stock market.
Take note: the whole purpose of a safe haven is to protect against a period of uncertainty in the market, if this period of uncertainty, which could be a couple of days or weeks passes the safe haven asset can move lower as the market stabilizes.
Equities
Sibanye Gold Limited (SGL)
Sibanye has been on the rise over the last year and has certainly seen its share price escalate due to the latest tensions between the U.S and Iran. These tensions between the two nations have seen the Gold price rise as a safe haven play along with most of the Gold stocks on the JSE.
Sibanye Gold's share price performed exceptionally well with a positive 1-year change of 256%, which is just a testament of the market turmoil we have seen coupled with good business.
Here is a look at our previous research note on Sibanye Gold with a target price of R27.12 per share, which is well below the current trading price of R35.92 per share.
Precious metals
Here is a closer look at the performance of these commodities over a 5-year term which has seen the demand for Palladium (pink line) on the increase. Palladium had a 166.75% return over the last 5 year and hit a fresh new record high this week of $2,011.48 an ounce.
Gold (yellow line) and Platinum's (blue line) performance over the same period performed 27.60% and -21.41% respectively.
The Gold price did, however, manage to achieve the majority (20.14%) of its gains over the last year with Platinum's 1-year return coming in at 15.99%.
Take note: commodity prices and performances were taken as of 8/01/2020 close of the market
Exchange Traded Products (ETP)
Exchange traded products like ETFs offer a vast and cost-effective way of tracking the performance of hard assets like Gold, Palladium and Platinum.
NewGold ETF (GLD)
The ABSA NewGold ETF (GLD) is a great way to track the performance of Gold which in turn can be used to diversify one's portfolio. We might expect the prices of the NewGold ETF to come lower as stability returns to the market.
1nvestPalladium ETF (ETFPLD)
Palladium's story, on the other hand, might be different from that of Gold in that Palladium was also used as a safe haven lately. Still, the demand for the precious metal has been rising at an exceptional rate. Coupled with a shortage of supply can see the metal continue its current trajectory throughout 2020.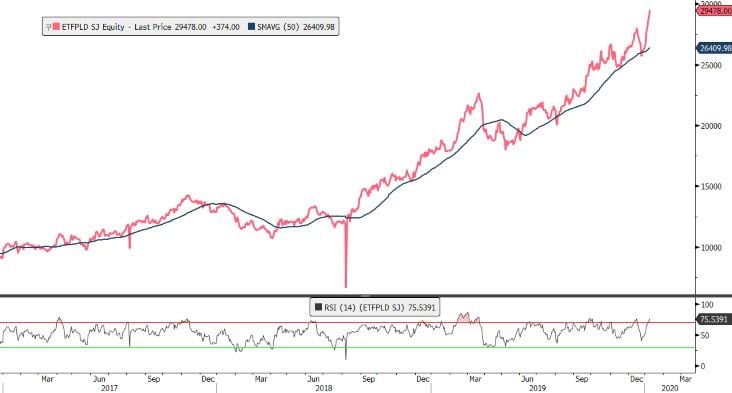 Satrix ILBI Portfolio ETF (STXILB)
As mentioned earlier Bonds and Cash can also be used as a safe haven which makes the Satrix Inflation-Linked Bond such an attractive offering. The ETF (STXILB) is to track, as closely as possible, the value of the S&P South Africa Sovereign Inflation-Linked Bond 1+Year Index.
*Chart sources - Bloomberg, KOYFIN
Read more:
Small Caps on the JSE
Follow Barry Dumas
@BEEF_FINMARKETS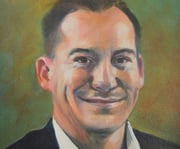 Barry is a market analyst with GT247, with a wealth of experience in the investment markets. Now in his tenth year in the markets, Barry "The Beef" Dumas brings a combination of technical analysis and fundamental insights to the table.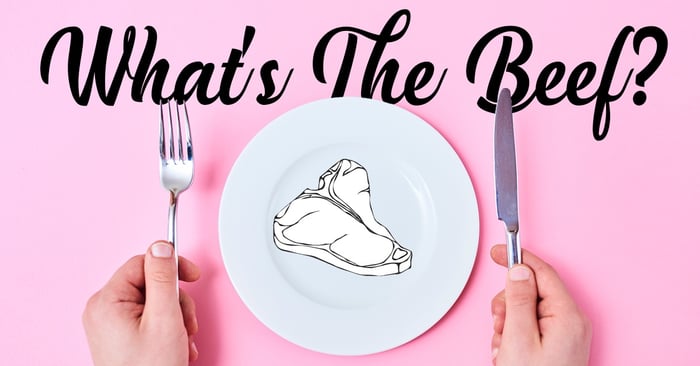 Any opinions, news, research, reports, analyses, prices, or other information contained within this research is provided by Barry Dumas, Market Analyst at GT247 (Pty) Ltd t/a GT247.com ("GT247.com") as general market commentary, and does not constitute investment advice for the purposes of the Financial Advisory and Intermediary Services Act, 2002. First World Trader (Pty) Ltd t/a EasyEquities ("EasyEquities") and GT247.com do not warrant the correctness, accuracy, timeliness, reliability or completeness of any information received from third party data providers. You must rely solely upon your own judgment in all aspects of your investment and/or trading decisions and all investments and/or trades are made at your own risk. EasyEquities and GT247.com (including any of their employees) will not accept any liability for any direct or indirect loss or damage, including without limitation, any loss of profit, which may arise directly or indirectly from use of or reliance on the market commentary. The content contained within is subject to change at any time without notice.