The JSE all share index edged up 0.8% in March driven by the rand hedges and large caps (+1.2%). Sentiment towards SA stocks remains subdued as small (-2.5%) and medium (-3.1%) capitalisation stocks continue to underperform their large-cap counterparts. The equally weighted portfolio of ETFs that tracks JSE-listed companies edged up by 0.51%, while a portfolio of commodity funds rose 1.56%.
The Microeconomic view
The market was buoyed by mining stocks (+3.8%) and some industrial counters, specifically the rand hedges. The best fund in March, the NewFunds S&P GIVI South African Industrial ETF, rose 5.68% and was followed closely by a bunch of resources funds.
However, banks (-6.0%) and retailers (-6.4%) were under pressure given their huge exposure to the struggling South African economy, exacerbated by disappointing economic indicators.
The FNB/BER Civil Confidence Index, which measures construction activity, hit its lowest level ever recorded of 10 points in the fourth quarter of last year. Similarly, the Absa Purchasing Managers Index fell to 45.0 points in March from 46.2 in February, the third consecutive month of decline. As such the Satrix Fini ETF was the biggest loser, declining 4.81% in March.

ETFs featured
We have split the ETFs featured into three broad categories:
Bonds and Cash:
Bonds should find their way into a well-diversified portfolio due to their risk-diversification attributes.
If you are investing for a very short period, usually less than a year, then the NewFunds TRACI 3 Month (up 0.56% during March) is a natural choice because it is least sensitive to sudden adverse interest rate movements. It is like earning interest on your cash at the bank with a minimal possibility of capital loss.
You can also park your funds in a money market fund if you've a lump sum that you wish to put down as a deposit for big-ticket item purchases like a house or car while you shop around. It's a better option than putting money in a current account that does not earn interest.
For a longer investment horizon, protecting your investment against inflation is paramount. We maintain our choice of the Satrix ILBI ETF (down 0.84%), which has the lowest expense ratio in this category.
Furthermore, nominal bonds add a unique risk-return dimension that differs from inflation-linked bonds and improves overall portfolio performance. As with equities, investors also need to diversify their bond portfolios internationally. Our choice is the Stanlib Global Bond ETF (up 3.76%), which tracks investment-grade sovereign bonds mostly issued by the US, UK, Japan and selected European countries. The Stanlib Global Bond ETF has the lowest TER.
Dividend:
If you rely on your investment income for day-to-day expenses you may want to allocate a portion of your portfolio to ETFs that have a high distribution ratio. Property funds tend to have even higher pay-out ratios. We maintain our choice of the Stanlib SA Property ETF (down 1.51%). The Stanlib fund boasts the lowest TER in the segment.
For foreign property funds ETFs, the Sygnia Itrix Global Property ETF (up 5.97%) is the cheapest in this category.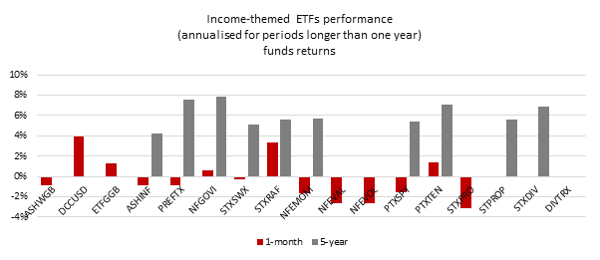 Diversified funds:
If you find the process of diversifying your portfolio daunting, two ETFs can do it for you. They combine equities and bonds to produce a diversified portfolio for two investor archetypes, designed to meet two different risk appetites:
Mapps Protect is more conservative, usually suitable for older savers.
Mapps Growth suits investors with a long-term horizon.
They climbed 0.62% and 1.37% respectively in March.
There's plenty more from where that came from. The team at Intellidex have more insights for the month of April. To see more in-depth analysis and market insights (global and local), check out the full note here.
Background: Exchange-traded funds (ETFs)
Exchange-traded funds (ETFs) are passively managed investment funds that track the performance of a basket of pre-determined assets. They are traded the same way as shares and the main difference is that whereas one share gives exposure to one company, an ETF gives exposure to numerous companies in a single transaction. ETFs can be traded through your broker in the same way as shares, say, on the EasyEquities platform. In addition, they qualify for the tax-free savings account, where both capital and income gains accumulate tax free.
Benefits of ETFs
Gain instant exposure to various underlying shares or bonds in one transaction

They diversify risk because a single ETF holds various shares

They are cost-effective

They are liquid – it is usually easy to find a buyer or seller and they trade just like shares

High transparency through daily published index constituents
If you thought this blog was interesting, you should also read:
Disclaimer
This research report was issued by Intellidex (Pty) Ltd. Intellidex aims to deliver impartial and objective assessments of securities, companies or other subjects. This document is issued for information purposes only and is not an offer to purchase or sell investments or related financial instruments. Individuals should undertake their own analysis and/or seek professional advice based on their specific needs before purchasing or selling investments. The information contained in this report is based on sources that Intellidex believes to be reliable, but Intellidex makes no representations or warranties regarding the completeness, accuracy or reliability of any information, facts, estimates, forecasts or opinions contained in this document. The information, opinions, estimates, assumptions, target prices and forecasts could change at any time without prior notice. Intellidex is under no obligation to inform any recipient of this document of any such changes. Intellidex, its directors, officers, staff, agents or associates shall have no liability for any loss or damage of any nature arising from the use of this document.
Remuneration
The opinions or recommendations contained in this report represent the true views of the analyst(s) responsible for preparing the report. The analyst's remuneration is not affected by the opinions or recommendations contained in this report, although his/her remuneration may be affected by the overall quality of their research, feedback from clients and the financial performance of Intellidex (Pty) Ltd.
Intellidex staff may hold positions in financial instruments or derivatives thereof which are discussed in this document. Trades by staff are subject to Intellidex's code of conduct which can be obtained by emailing mail@intellidex.coza.
Intellidex may also have, or be seeking to have, a consulting or other professional relationship with the companies mentioned in this report.