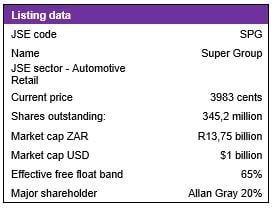 In my last note dated 23 May ("Sandown Western Cape acquired") I analysed the terms to buy Sandown Motors Western Cape dealerships as a going concern for R1,3 billion, including the dealership, property and inventory, by September 2016. Super Group remains on the lookout for assets, this time not deterred by Brexit.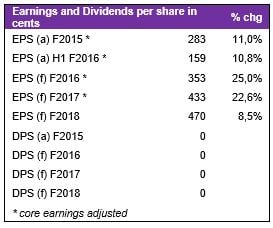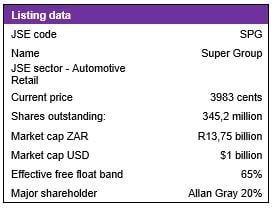 In a deal worth £25,7 million (R462 million at the current more favourable rate of exchange to the pound) SG Fleet, in which Super Group has a 54% shareholding listed on the Australian Stock Exchange, is buying a UK business called Fleet Hire. The acquisition is a neat fit as it is in contract hire, salary sacrifice, short-term rental and fleet management.

This comes shortly after Imperial, another transportation company, agreed a £163 million deal to buy a British freight company called Palletways with distribution across twenty European countries.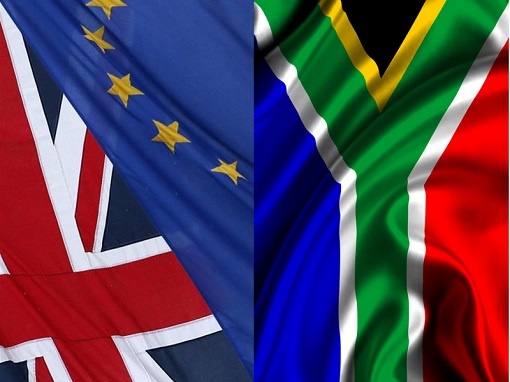 Both Super Group and Imperial are seasoned operators with a fair idea what they are getting themselves in to. For all the hysteria and armchair doom mongering around Brexit, these are businesses taking a calculated decision and talking with their wallets. It is similar to Wells Fargo, which in the third-week of July decided to buy rather than lease a brand new building in London for £300 million.
SG Fleet CEO made an interesting comment. "We looked at this asset carefully and …tested the proposition in the context of the UK's current economic environment…we have a clear view on our long-term outlook in the UK and have gone about executing our plans in a very disciplined fashion."
With EBITDA of £4,6 million the EV/EBITDA ratio is a competitive 5,6x. The price is £19,6 million together with net lease portfolio debt of £6,1 million. SG Fleet is issuing 756 142 shares at A$4,055 per share for a consideration of A$3,06 million or £1,78 million to the vendors with the balance funded through £12 million in debt and £5,8 million in cash.
The deal is earnings accretive and I have increased my Super Group proportionate share of earnings accordingly.
My forecast for adjusted earnings is R1 177 million for the year ended June 2016. That equates to 353,2 cents per share. Rand earnings thus grow by 36.5% and earnings in cents grow by 25.0%. results should be out in the third week of August.
I previously estimated 2017 EPS growth of 18.3% to 418 cents per share off the 2016 base. I have now increased that to 433 cents per share to give 22,6% growth.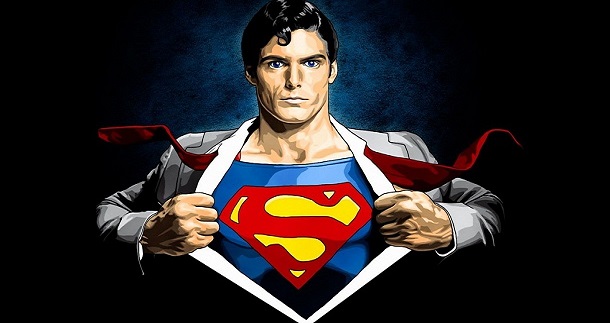 For 2018, my earlier estimate of 454 cents per share in earnings, 8,6% growth, now rises to 470 cents per share.
That means three-year compound growth of 18,5% from a base of June 2015 on the basis of my estimates.
Super Group's net debt position at 31 December 2015 was R2 763 million, which should decrease by a few hundred million as at June 2016. There is ample headroom to accommodate acquisitions with EBITDA interest cover estimated at 20x.
A 75% interest in IN tIME Holdings GmbH was bought for R784,6 million effective 2 November 2015 and ASX listed SG Fleet Group acquired NLC Pty Ltd effective 30 November 2015 for a price equivalent at that time to R2,2 billion. These will boost H2 earnings.
The group concluded a fully-underwritten rights offer effective October 2015 resulting in 35 million new shares issued at 2570 cents per share so there is 9% more shares in issue on a weighted basis for the year and 15.5% more share to service in total compared with June 2015.
Operating profits outside Africa I estimate will exceed 55% by 2018.
Super Group does not declare dividends as the policy is to re-invest cash generated in acquisitions or share repurchases. Separately listed SG Fleet has a target dividend payout of 60% to 70% of profit after tax.
At a share price of 3983 cents the PE ratio to June 2016 is 11,3x and the forward PE ratio to 2017 is 9,2x. The three-year price earnings to growth ratio is 0,76x whilst price to book is 1,8x. This is an attractive rating for new money.
Despite economic softness, Super Group has a fair probability of growing earnings through this cycle given its mix of assets and geographies and recent acquisitions. Super Group I regard as a growth stock that does not pay dividends.
Given the strengthening of the rand, I am keeping fair value at 5000 cents whilst increasing the target price to 5300 cents and the two year target to 5750 cents.
Trading Buy and Portfolio Buy maintained.
Share price of Super Group and Imperial in ZAR cents over three years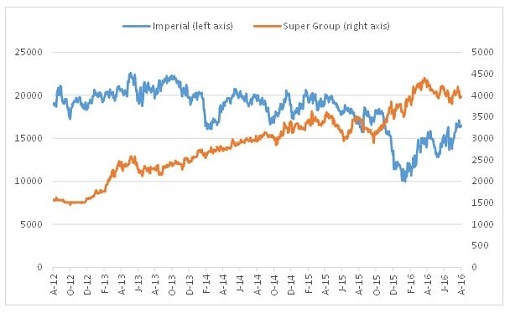 Super Group and Imperial based to 100 over three years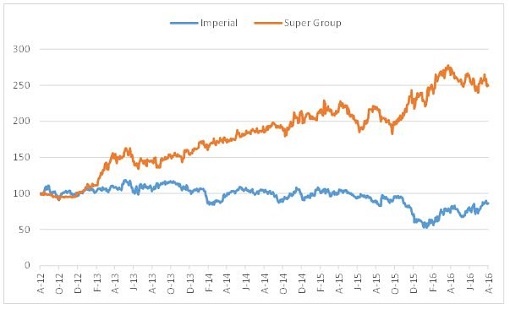 Kind Regards,
Mark N Ingham