Over the past few days, Lonmin has been making the headlines with tags such as 'Lonmin down 45% as investors flee' or 'As Lonmin fights for survival miners move to cash in and quit'. These headlines can easily strike fear into any new investors' heart; first African Bank now Lonmin! If the stock market is such a great way to grow your money, then why aren't we seeing any news about companies that are doing well? Lonmin is down by 93% this year alone! Is it even possible for companies to grow by those same margins?
I don't have an answer for the former, but fortunately I do have an answer for the latter.
In order to do this we need to put things into perspective, so let's look at some of the worst performing companies on the JSE for this year, compared to those that performed the best: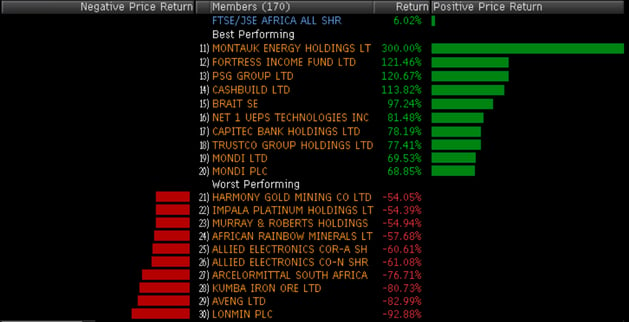 Source: Bloomberg
The table above paints a different picture to what you might have expected. With all the bad news we've seen, surely we should have seen higher percentile losses among the worst performers compared to the increases of the best performers.
Granted there are risks associated with investing in the stock market, but let's put things into perspective. Looking at the year-to-date performance of all JSE-listed shares, close to five percent of these companies lost more than 50% of their value, while 7.37% had a return of over 50%.
Brait, Capitec, Mondi, Steinhoff and Naspers gained 97%, 78%, 69%, 44% and 39% respectively. However, this growth pales in comparison to the growth seen in some of the mid-cap companies that have grown at phenomenal rate. Companies like Montauk Energy holdings grew by 300% and Fortress Income by 121.46%. PSG Group rose by 120.67% and Cashbuild grew by 113%.
When you look at the average of the best performing companies compared to the worst performing companies, they have outperformed the worst performers by more than 180%. The JSE All-Share Index, which is the broadest measure of the South African stock market, has grown by 6.02% year-to-date. This return is higher than what you would get from putting your cash in a savings account
So why are there no reports of these companies that are performing so well? It's purely because bad news sells better than good news.
The stock market is not as complicated as it's made out to be. When you invest in good quality companies, you'll be surprised at the returns that you can generate. The trick with investing is to trust your intuition and to invest in good quality companies that offer growth over the long term.
If you see bad financial news in the papers, instead of running for the hills ask yourself where the opportunity in this fear is. As the famous saying goes "When there's blood on the streets, buy property".
In conclusion, perhaps having little good news is a good thing as it presents new investment opportunities. All you need to do now is go out and find them!