Starbucks (SBUX)
Starbucks, the name we all know and love reported earnings on 26th July with some surprising results, like:
Consolidated Net Revenues Up 11% to a Record $6.3 Billion;
Comparable Store Sales Up 1% Globally and in the U.S.
Active Starbucks Rewards™ Membership in the U.S. Increases 14% Year-Over-Year to 15.1 Million.

GAAP EPS of $0.61; Non-GAAP EPS of $0.62, Up 13% Year-Over-Year
Spotlight over the weekend as the beloved coffee retailer was rumoured that they will be accepting digital assets like Bitcoin as a method of payment.
Rumours were discredited on Saturday by the coffee retailer's spokesperson saying - "It is important to clarify that we are not accepting digital assets at Starbucks," "Rather the exchange will convert digital assets like Bitcoin into US dollars, which can be used at Starbucks."
*Starbuck is currently in a joint venture with Intercontinental Stock Exchange (NYSE's parent), BCG, and Microsoft to create a seamless global network for spending digital assets.
Serious stuff
Starbucks (SBUX) have recently paid a dividend of $0.36 cents per share which have pushed the price somewhat lower from the $52.75 resistance level seen in both charts below (red-dotted line).
Looking at the long-term Chart we can see the price in an uptrend until 2015 where it started to trend in a sideways channel between $47.41 and $63.84 per share.

Source - Boomberg
Zooming into the intraday chart we can expect the price to move lower from the dividend that was paid before we see a possible move higher. Portfolio buy will be above $52.75 if you do not hold the stock and possible levels to add on to your position might be $55.43 and $58.51 per share back up to channel resistance at $63.84 per share.

Source - Bloomberg
Portfolio particulars:
Portfolio Hold (Current)

Portfolio buy above $52.70 (Future)


Portfolio sell below $47.41 (Future)
*know your company: Starbucks (SBUX)
Starbucks is named after the first mate in Herman Melville's Moby Dick. The logo is also inspired by the sea – featuring a twin-tailed siren from Greek mythology.
Starbucks began in 1971. Back then we were a roaster and retailer of whole bean and ground coffee, tea and spices with a single store in Seattle's Pike Place Market
Follow Barry Dumas
@BEEF_FINMARKETS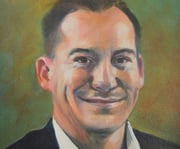 Barry is a market analyst with GT247, with a wealth of experience in the investment markets. Now in his tenth year in the markets, Barry "The Beef" Dumas brings a combination of technical analysis and fundamental insights to the table.