Nvidia (NVDA)
This stock is an absolute favourite of mine, not just because I am all about gaming (#BeForTheGame) and visuals (#Turing) but Nvidia Corp (NVDA) is an almost perfect momentum stock to have part of your portfolio. As my good friend Standwa Nongauza would say, it's an absolute cult classic when referring to momentum stocks.
Backdrop
The stock is up over 306% over the last 2 years and beating the S&P 500 by over 30% over the same period and looking strong.
The spotlight is firmly placed on Nvidia this week as the company will be releasing its financial results for the second quarter. The results will be released on Thursday the 16th of August after the U.S market close around 22:20 (local time).
The market is suggesting that the results will be in line with expectations and in true cheeky Nvidia style the company unveiled its eighth-generation Turing graphics architecture three days ahead of earnings. CEO and founder Jensen Huang said "Turing is NVIDIA's most important innovation in computer graphics in more than a decade." The stock managed to gain over 2% on Tuesday to over $ 261.43 per share.
Serious stuff
Taking a look at the long term chart we can see that Nvidia Corp. (NVDA) has been in a steady uptrend, gaining momentum over the last two years. The price has tested the trend line (red dotted) on a number of occasions but moved higher from there and also presenting good portfolio buy opportunities.
Source - Bloomberg
Taking a closer look at the daily chart we can see that the price started to gain momentum in Tuesday's trading session from the release of the Turing graphics architecture on Monday ahead of earnings. The price action closed above the $260.07 per share resistance level which signals a good likelihood that the stock might move higher from current levels.
If the company's earnings do not impress, then we might see a short term selloff back to the trend line (Red dotted) before the price moves higher once more. If the trend line holds there will be great opportunities to add on to your current portfolio.

Source - Bloomberg
Portfolio particulars:
Portfolio Long term Hold (Current)

Portfolio buy above $261.42 (Current)

Portfolio add - $269.13 (Future)
*know your company: Nvidia Corporation (NVDA)
Founded in 1993, Nvidia is a company which likes word play, symbolism and likes to invest in multiple levels of meaning. One of the key roots of the name Nvidia is the word Invidia, which is Latin for envy. Envy and vision are closely tied in mythology with the eye or the gaze being a common symbol.
Since 2014 Nvidia has since shifted to become a platform company focused on four markets – gaming, professional visualization, data centres and auto. The company also now focuses on artificial intelligence.
Follow Barry Dumas
@BEEF_FINMARKETS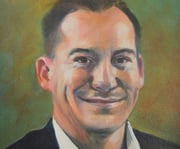 Barry is a market analyst with GT247, with a wealth of experience in the investment markets. Now in his tenth year in the markets, Barry "The Beef" Dumas brings a combination of technical analysis and fundamental insights to the table.