Nvidia (NVDA)
What "another great quarter" as stated by Jensen Huang (founder & CEO) on the release of the second quarter results ended July 29, 2018, like:
Record revenue from all platforms – Data centre, Gaming, Professional Visualization, Automotive
Revenue of $3.12 billion, up 40 percent from a year ago
GAAP EPS of $1.76, up 91 percent from a year ago
NVIDIA beat their midpoint guidance (average forecast determined between different analysts) on both top-line and bottom-line and is still a very well-run company with exceptional growth prospects for the future.
BUT WAIT, all this sounds great, but the market did not appreciate the results and the stock fell by 5% on Friday the 17th as the market's expectations were not met. The forecasts for Q3/19 fell below expectations, coupled with Crypto-fuelled "noise "also not helping.
This played in with my technical outlook from the first NVIDIA note "If the company's earnings do not impress, then we might see a short-term selloff" as seen in the chart below.

Source - Bloomberg
Getting back to the serious stuff, if we look at the chart below we can see the price action testing the trendline (red dotted) and moved higher. This move higher was because of the release of the #NVIDIAGeForce #RTX2080 graphics card on Monday, giving a signal for dip buyers to enter the market. I have adjusted my entry for a portfolio buy at $254.14 and a portfolio add around the $261.42 level.
Take note than Nvidia Corp. (NVDA) will pay a dividend of $0.15 cents per share next week, with Ex-Dividend date falling on the 29th of August, and expected dividend payment being on the 21st of September 2018.

Source - Bloomberg
Portfolio particulars:
Portfolio Long Term Hold (Current)

Portfolio Buy above $254.14 (Future)

Portfolio add $261.42 (Future)
*know your company: Nvidia Corporation (NVDA)
Founded in 1993, Nvidia is a company which likes word play, symbolism and likes to invest in multiple levels of meaning. One of the key roots of the name Nvidia is the word Invidia, which is Latin for envy. Envy and vision are closely tied in mythology with the eye or the gaze being a common symbol.
Since 2014 Nvidia has since shifted to become a platform company focused on four markets – gaming, professional visualization, data centres and auto. The company also now focuses on artificial intelligence.
Follow Barry Dumas
@BEEF_FINMARKETS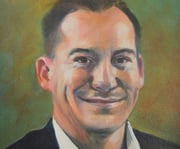 Barry is a market analyst with GT247, with a wealth of experience in the investment markets. Now in his tenth year in the markets, Barry "The Beef" Dumas brings a combination of technical analysis and fundamental insights to the table.