McDonald's Corporation (MCD)
What can be said about the famous golden arches that haven't been said before? Maybe that this American fast food company has stood the test of time and is still going strong.
Let's look at the recent earnings released for the second quarter:
Global comparable sales increased 4.0%
Returned $2.5 billion to shareholders through share repurchases and dividends
Due to the impact of the Company's strategic refranchising initiative, consolidated revenues decreased 12%.
Second quarter comparable sales increased 2.6% in the U.S
Operating income for the quarter decreased 7% primarily due to the strategic restructuring charge.
Getting to the Serious stuff
"Luck is a dividend of sweat. The more you sweat, the luckier you get"- Ray Kroc (Founder).
So, talking about dividends, McDonalds will be paying a Cash Dividend of $1.01 per share. The Ex-Dividend date will be 31 August 2018 with payment date on the 18th of September 2018.
Looking at the long-term chart of McDonalds we can see the price action was in a consolidation phase for a period from 2012 to 2015. The price has been moving in an uptrend ever since and might enter another consolidation phase. The price is currently finding support at the uptrend support level (green dotted).

Source - Bloomberg
Zooming in to the intraday chart we can see the price action has reached a resistance zone at $163.24. I would consider a long-term portfolio buy above the $164.50 price level and add on to the portfolio at $169.49. if buying the stock for the dividend then you would have to do so no later than 30 August 2018 and keep in mind that the price action will move lower on Ex-Dividend day.

Source - Bloomberg
Portfolio particulars:
Portfolio Hold (Current)

Portfolio buy for dividend (Current)

Portfolio Buy above $ 164.50 (Future)

Portfolio add above $ 169.49 (Future)
*Know your company: McDonald's Corporation (MCD)
McDonald's was founded in 1940 as a restaurant by Richard and Maurice McDonald, with Ray Kroc being the "Founder" (watch the movie) of the modern-day McDonalds.
McDonald's feed 68 million people every day – that's more than the entire U.K population.
McDonalds is also one of the world's largest real estate companies.
Follow Barry Dumas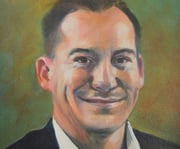 Barry is a market analyst with GT247, with a wealth of experience in the investment markets. Now in his tenth year in the markets, Barry "The Beef" Dumas brings a combination of technical analysis and fundamental insights to the table.