BHP Billiton (BIL)
BHP Billiton a diversified miner, multi listed stock and all-round power house of the JSE Top 40 has recently released some interesting full year results:
An increase in the underlying profit of 33% for the full financial year which was slightly below market expectation.
Results were boosted by an 8% lift in volumes and higher commodity prices.
Net debt at lower end of BHP's target range
Record dividend announced by chief executive Andrew Mackenzie which reflects strong operating performance.
In the spotlight Andrew Mackenzie said that he expects the strong momentum to continue in the company's "dramatically simplified portfolio".
Serious stuff
BHP Billiton PLC (BIL) have announced a record dividend of $0.63 cents per share. With the primary listing in Australia keep in mind that the dividend is quoted in United States Dollars. The conversion rate will be announced the 31st of August.
The Ex-Dividend date will be 5 September 2018 with the dividend payment date scheduled for the 25th of September 2018.
Looking at the chart of BHP Billiton PLC (BIL) below we can see the price action has been in an uptrend since middle March. The price has been finding some market resistance at the 31274c per share level.

Source - Bloomberg
Taking a closer look at the same chart we can see the price action testing the 31274c resistance level and it seems that the price action might just move higher from there. A portfolio buy at current levels looks good with a target price around the 32218c per share in the short term.

Source - Bloomberg
Portfolio particulars:
Portfolio Hold (Current)

Portfolio add above R 315.80
*know your company: BHP Billiton PLC (BIL)
BHP Billiton is a multi-listed company (the share is listed on other international exchanges) with its primary listing BHP listed in Australia.

BHP is amongst the

world's largest producers

of major commodities like Iron Ore, Copper, Uranium and metallurgical coal
Follow Barry Dumas
@BEEF_FINMARKETS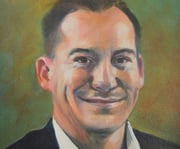 Barry is a market analyst with GT247, with a wealth of experience in the investment markets. Now in his tenth year in the markets, Barry "The Beef" Dumas brings a combination of technical analysis and fundamental insights to the table.