Apple (AAPL)
An apple a day, keeps poverty at bay? Is how the saying goes right??
On a more serious note, Apple Inc is probably one of the most recognisable and iconic brands in the world today right up there with Coca-Cola.

Also, the first public traded company in the history of the world to cross the $ 1 trillion mark after strong earnings results for Q3 ended June 30, 2018:
Revenue of $ 53.3 billion, up 17% over the same quarter a year ago.
EPS up 40% also new quarter
International sales accounted for 60% of the quarter's revenue.
The board of directors has declared a cash dividend of $0.73 per share. The dividend is payable on August 16, 2018 to shareholders of record as of the close of business on August 13, 2018.
"We're thrilled to report Apple's best June quarter ever, and our fourth consecutive quarter of double-digit revenue growth" - Tim Cook (CEO) #Thrive
All of this sounds pretty great but let's look at the long-term chart below, we can see the stock has been in an uptrend since 2016. We can see an almost perfect parabolic move: a surge in share price away from the main uptrend (red dotted) and usually followed by a selloff in the short term.

Source - Bloomberg
What it looks like as part of the technical analysis chart (below) we can see the parabolic move (purple line). When a chart starts a parabolic move there usually are consolidation phases depicted as (Bases) on the chart. Breakouts from these "bases will give great buying opportunities to add on to positions.

Source - Bloomberg
Taking a closer look at the chart we can see the pullback from the parabolic move as expected which gives us great entry points to add to a portfolio or for new entrants to start buying Apple Inc. (AAPL) as part of their portfolio.

Source - Bloomberg
Best news of all is this stock is a #Trive50 share, which means 'Thrivalists' stand to pay $0 in brokerage fees when purchasing the Apple Inc. stock on EasyEquities.
Portfolio particulars:
Portfolio Hold (Current)

Portfolio Buy above $209.56 (Future)

Portfolio Buy above $219.18 (Future)

Portfolio Target Price $240.05 (Future)
Did you know: Apple Inc. (AAPL)
Apple Computers Inc was founded by two college dropouts, Steve Jobs and Steve Wozniak on April fool's day, the 1st of April 1976.
The famous apple "rainbow scheme" logo was created by Rob Janoff in 1977, Steve Jobs has asserted the apple logo was inspired by the story of his childhood.
Follow Barry Dumas
@BEEF_FINMARKETS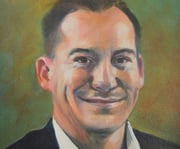 Barry is a market analyst with GT247, with a wealth of experience in the investment markets. Now in his tenth year in the markets, Barry "The Beef" Dumas brings a combination of technical analysis and fundamental insights to the table.