The "Pepsi" brand is probably as "Iconic" as they come as this American multinational food, snack and beverage corporation needs no introduction. Formed back in 1965 with a merger between Pepsi-Cola Company and Frito-Lay, the rest is history!
With the Q3 earnings released October second being mixed and the F2018 outlook not satisfying market expectations the company was under pressure but has rebounded nicely.
Revenue increased by 5% higher than expected.
Earnings per share (EPS) beat by only $0.02 cents.
Some Forex headwinds provided some bottom-line drag by 2%.
Asia, North Africa and the Middle East core operating profit grew by 18%
But the total core operating margin was down 30 Basis Points (bps).
Take note that PepsiCo Inc. have declared a dividend of $0.93 cents per share, with the Ex-Dividend date falling on the 6th of December 2018. The expected dividend payment date would then be on the 7th of January 2018.
Last day to trade to get the dividend is due today the 4th due to all U.S stock exchanges being closed tomorrow December 5, 2018 in observance of the National Day of Mourning for President George H. W. Bush.
Like most charts of U.S stocks we can see that PepsiCo has been in a steady uptrend since the global financial crises ended. Reaching all-time highs at the start of 2018 and testing the highs once more recently it looks like we are set for a run in the near future.

Source - Bloomberg
We might expect a short-term pullback looking at the seasonality chart and factors that drive the share price also keep in mind that the stock is going Ex-Div this week. Buying opportunities might present itself lower than the current market price.

Source - Bloomberg
Portfolio particulars:
Portfolio Hold (Current)

Portfolio Buy (for Dividend)

Portfolio Buy opportunity $115.86

#WhatsTheBeef Target Price: $128.00
Did you know: PepsiCo Inc. (PEP)
Pepsi was invented by Caleb Davis Bradham back in 1893 and the popular soft drink was once called "Brad's Drink"
The Brand gave Sofia Vegara her first acting job as she starred in a Pepsi commercial when she was only 17 years old.
PepsiCo Inc owns some of the most interesting brands out there like Lays

,

Gatorade

,

Mountain Dew

, Fritos and

Cheetos

to name just a few.
Follow Barry Dumas
@BEEF_FINMARKETS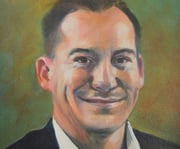 Barry is a market analyst with GT247, with a wealth of experience in the investment markets. Now in his tenth year in the markets, Barry "The Beef" Dumas brings a combination of technical analysis and fundamental insights to the table.