If it's reality you want, I suggest you look out the window. Microsoft's window, that is, as the multinational technology company over takes Apple Inc. to become the world's most valuable company by market capitalization.
Looking at some of the highlights from the Q1 earnings released on the 24th of October 2018 which saw gaming and cloud outshine the competition:
Earnings per Share (EPS) beat by $0.20
Revenue beat with a 19% Y/Y growth.
Windows commercial and cloud services gained 12%
Gaming grew by 45%
Next earnings date: 29 January 2019
In dividend news, Microsoft Corp. have declared a dividend of $0.46 cents per share, with the next Ex-Dividend date falling on the 20th of February 2019. The expected dividend payment date would then be on the 14th of March 2019.
The price action on the chart has been in a steady uptrend and compared to its peers Microsoft is holding up nicely in current market conditions. We might see a short term pull back if the current selloff market conditions continue lower to a price of $98 per share.

Source - Bloomberg
If we see the buyers enter the market for the long-awaited Christmas rally we might see the share price rise from current levels and $111.00 might be a good level to pick up some stock.

Source - Bloomberg
Portfolio particulars
Portfolio Hold (Current)

Portfolio Buy opportunity $111.00

#WhatsTheBeef Target price: $113.00
Did you know: Microsoft Corp. (MSFT)
Microsoft was founded over 43 years ago back in 1975 by Paul Allen and Bill Gates which have been best friends with Warren Buffet for 27 years.
In 1987, at age 31, Microsoft co-founder Bill Gates became the youngest billionaire ever at the time.
If you bought 1 share of Microsoft stock for $21 at its March 13, 1986, IPO, it would be worth $14,990 today. That's a 71,283% increase over 30 years.
Follow Barry Dumas
@BEEF_FINMARKETS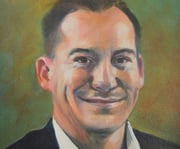 Barry is a market analyst with GT247, with a wealth of experience in the investment markets. Now in his tenth year in the markets, Barry "The Beef" Dumas brings a combination of technical analysis and fundamental insights to the table.