International Business Machines Corp. (IBM)
IBM has been around for ages, since 1911 and has given other iconic brands like Microsoft and Apple a run for its money at some point in time.
But one thing that is even better than some stiff competition is that one word that all investors like to hear, "dividends".
Take note that IBM have declared a dividend of $1.57 per share:
The

Ex-Dividend date

is tomorrow, the 8th of November, 2018.
With the expected dividend payment date being on the 10 December 2018.
Take note that the stock should be bought today before IBM goes Ex-Dividend tomorrow. For the newbies, as soon as a stock goes Ex-Dividend the share price will trade at a lower price, adjusted for the dividend paid.
Let's have a look at the chart, we can see that IBM, like other stocks, has been under pressure over the month of October. It appears that the stock is breaking out of this descending channel and is looking to push higher. It poses a great opportunity to buy the stock even if only for the dividend at this stage.

Source - Bloomberg
Here are some fundamentals from the recent Q3 earnings release:
Best Year-to-Year Gross Margin Performance in 3 Years, Reflecting Higher Value Business
Revenue of $18.8 billion, down 2%.
Strategic imperatives revenue of $39.5 billion over last 12 months, up 13%
Strong services gross profit margin expansion year to year
Maintains full-year operating (non-GAAP) EPS and free cash flow expectations
Portfolio particulars:
Portfolio Buy for dividend (Current)
Know your company: International Business Machines Corp. (IBM)
IBM computers helps in landing astronauts on the moon, as well as the Apollo missions from 1969 to 1971

Five IBM employees have won a Nobel Prize

IBM also holds a very long list of inventions namely, the magnetic stripe, bar codes, floppy disks, hard drives, RAM memory, and the worlds first computer system for data storage.
Follow Barry Dumas
@BEEF_FINMARKETS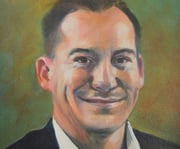 Barry is a market analyst with GT247, with a wealth of experience in the investment markets. Now in his tenth year in the markets, Barry "The Beef" Dumas brings a combination of technical analysis and fundamental insights to the table.