Ferrari, what an absolute pile of substandard racing machinery. Said No one EVER! The prancing horse has been idealized by millions for decades and will continue long after I am gone.
The company's inception as an auto manufacturer is usually recognized as 1947, when the first Ferrari-badged car was completed.
I mean really, if you are a racing enthusiast then you can't go wrong with a stock which has (RACE) as its ticker symbol. Looking back at the latest Q3 earnings release, moving forward automobile companies will have to keep on innovating their products and offerings as the times change to stay relevant.
With an iconic brand like Ferrari's it might be much easier in the future, only time will tell.
Earnings per share (EPS) beats expectations by $0.04
Net Revenue up slightly by 0.3% Y/Y
Adjusted EBITDA increase of 7% compared to Q3 '17
Total shipments of 2,262 units, up 216 units (+10.6%%) from previous year Q3 '17
Next earnings date:
31 January 2019 before market open, the market is expecting earnings to beat expectations.
Some dividend news, Ferrari's last dividend of $0.87 cents per share went Ex-Dividend on the 23rd of April 2018. The next expected dividend date would be around April, May 2019 but take note that Ferrari has not yet declared a dividend for 2019.
The long-term chart of RACE shows me that the price action is still in an uptrend with the price action returning to test the uptrend support line (blue dotted). There is a possibility that the price might move lower back to base support (green line).

Source - Bloomberg
Zooming into the intraday chart we might get a buy opportunity over the short term depending on a positive earnings release. Price might move lower giving us a better entry point around $102.32 per share or even lower at $92.90 per share. My long-term target is $131.55 might be a bit premature as the earnings have not been released.

Source - Bloomberg
Portfolio particulars:
Portfolio Hold (Current)

Portfolio Buy opportunity $114.92 (Current)

Portfolio Buy opportunity lower $102.39

#WhatsTheBeef Long term Target price: $131.55
*Know your company: Ferrari NV (RACE)
Enzo Ferrari founded the company in 1939 out of Alfa Romeo's race division as Auto Avio Costruzioni. Enzo also founded the Scuderia Ferrari Grand Prix motor racing team and automaker Ferrari S.p.A.

The

Prancing Horse logo is said to be the symbol of WW1 famed flying ace Francesco Baracca who used it on his plane's fuselage. Enzo chose the symbol for his racing team as the countess Baracca said it would bring him luck. The yellow back ground was added to to represent Modena, Enzo's birthplace.
Ferrari's red goes together like pees and carrots, but it was not Enzo's decision as the FIA assigned red to all Italian GP racers in the early years of racing. It stuck, and over 45% of Ferrari's sold today are red.
Licensing and merchandising mean big business for Ferrari, reportedly bringing in over $1.5 billion from retail sales
Follow Barry Dumas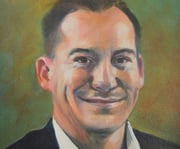 Barry is a market analyst with GT247, with a wealth of experience in the investment markets. Now in his tenth year in the markets, Barry "The Beef" Dumas brings a combination of technical analysis and fundamental insights to the table.