Clover Industries Limited (CLR)
Clover is "Krushing" it right now and if the F18 earnings release is anything to go by then this consumer goods company is looking very attractive.
Let's take a closer look at the Full year's earnings released in September:
HEPS

increased with 8% compared to prior year.
Declared a final cash dividend of 0.75c.

Revenue

up 9% to R8.3 billion.

Headline

loss per share of 23c.
1-year change:28%

Next earnings

date: 6 March 2019.
This was an exceptional turnaround story, with droughts weighing in heavily last year to delivering astounding results, its record year since listing.
Newsflash, the latest is that Clover Industries have announced that it entered negotiations with a third party (Currently unknown) who have the intention to buy the entire share capital of the dairy company.
Clover has released a full cautionary announcement to its shareholders on the 19th of October which saw the share price surge higher by more than 19% to a new one month high.
Looking at the chart, you'll see that Clover listed eight years ago, with the company's share price going from R10 in 2010 to a high of R20.75 in 2015. The price action has been consolidating within a range and sold off quite significantly over the 2017 period as the drought took its toll.
Source – Bloomberg
Zooming in, we can see the value of the share increased dramatically from the 2017 lows, nearly back to the all-time highs. Technically the price action is making lower highs and lower lows which would signal the start of a downtrend. The price action would need to clear this downward channel to signal a technical buy.
Source – Bloomberg
Portfolio particulars:
Portfolio Hold (Current)

Portfolio Buy (Only after corporate action has taken place)
Did you know: Clover Industries (CLR)
Clover's products range from milk to butter but also include other brands like Clover Krush, Manhattan Ice Tea, Super M and Tropika to name a few.

Allan Gray Asset Management

is one of the largest shareholders of Clover industries followed by the Public Investment Corp.

Clover Industries

listed on the JSE in December 2010 under the ticker CLR.
#KrushGoodness
Clover is also involved with a lot of really cool initiatives which take place through the year. One such initiative is the #KrushGoodness project, by Clover Krush - a brand synonymous with spreading goodness. When the 2019 school year kicks off, 20 000 children across South Africa will receive a brand new pair of school shoes to better equip them for the school year ahead.
Now in its second year, the #KrushGoodness project is calling upon South Africans to nominate schools whose children are most in need of school shoes. Nominations are now open and can be made by following the on-pack instructions on promotional Krush products. Krush will go through all nominations and by December 2018, 20 schools from provinces across SA will be selected. These schools will then be visited in the new year where 20 000 scholars will receive their brand new school shoes.
Check out our blog and follow us on social to see how the brands you love are making a difference!
Follow Barry Dumas
@BEEF_FINMARKETS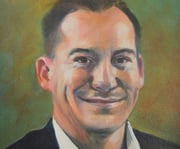 Barry is a market analyst with GT247, with a wealth of experience in the investment markets. Now in his tenth year in the markets, Barry "The Beef" Dumas brings a combination of technical analysis and fundamental insights to the table.