"Boeing", the name that is synonymous with air travel is also the world's largest aerospace company and leading manufacturer of commercial jetliners, defence, space and security systems.
With strong Q2 results The Boeing Company (BA) is still flying high:

Revenue increased to $24.3 billion reflecting 194 commercial deliveries and higher defence and services volume
GAAP EPS of $3.73 and core EPS (non-GAAP) of $3.33 on solid execution across the company
Strong operating cash flow of $4.7 billion; repurchased 8.6 million shares for $3.0 billion

Backlog grew to $488 billion, including nearly 5,900 commercial airplanes

Cash and marketable securities of $9.8 billion provide strong liquidity
Getting to the Serious stuff
The Boeing Company (BA) has the biggest weighting on the Dow Jones Industrial Average Index at 9.22%. It also released a Dividend of $ 1.71 on the Ex-Div date of 9 August 2018.
Looking at the long-term chart of Boeing we can see that the price action was in a consolidation phase from 2013 to the start of 2017. The price was trading in a range between a support level of $103.52 and finding resistance at the $ 158.83 per share. The price action broke out of the trading range and has been in an uptrend since.

Source - Bloomberg
So, if we fast forward to the intraday chart we can see that the price is consolidating once more within a triangle pattern. We might see the price move lower (which will give a lower entry point) before it breaks out higher from the triangle. Take note that if we see the price action move lower beyond the triangle support (red dotted) line then the set-up would have failed to buy The Boeing Company as part of our portfolio for now.

Source - Bloomberg
Best news of all is this stock is a #Trive50 share, which means 'Thrivalists' stand to pay $0 in brokerage fees when purchasing The Boeing Company (BA) stock on EasyEquities.
Portfolio particulars:
Portfolio Hold (Current)

Portfolio Buy above $359.00 (Future)

Portfolio Buy add $365.00 (Future)

Portfolio Target Price $374.48 (Future)
Did you know: The Boeing Company (BA)
Boeing was founded in 1916 by William E. Boeing.
An empty Boeing 787 weighs close to 117,617 kilograms. That's the equivalent of about 29 elephants.
The Boeing 747 can cover 100 meters in 0.36 seconds, besting Bolt's time by 9.22 seconds.
The Wright brothers could have fit their historic first flight inside a Boeing 747.
Follow Barry Dumas
@BEEF_FINMARKETS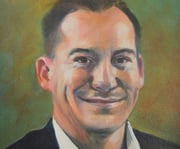 Barry is a market analyst with GT247, with a wealth of experience in the investment markets. Now in his tenth year in the markets, Barry "The Beef" Dumas brings a combination of technical analysis and fundamental insights to the table.